Fan Coils
Venkon XL
Fan coils, recirculating air. Heating, cooling, for raised external pressure.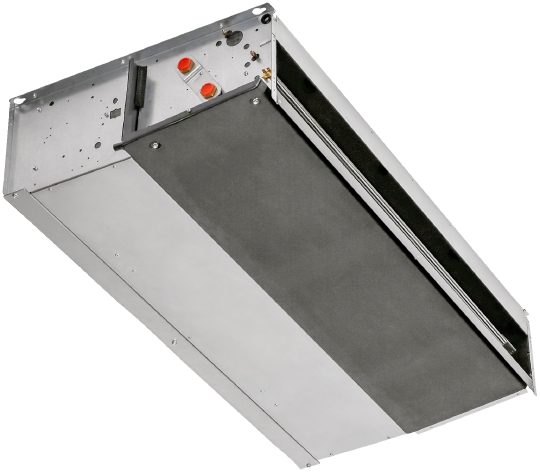 Overview
This fan coil guarantees XL outputs – even with high air-side pressure loss requirements. The EC fans used can be continuously variably controlled by a 0-10 V DC signal.
The sheet-steel housing helps to reduce noise and is also insulated against thermal losses, thanks to its integral insulation.
The Venkon XL fan coil is ideal for installation in suspended ceilings on account of its slimline design. It can be flexible combined with a connection unit for circular ducts to route treated air to targeted ventilation terminal components.
The large removable service hatch provides for quick and easy maintenance.
You have the choice of four models for each application and building of any kind that needs to be cooled and/or heated.
The generously dimensioned heat exchanger ensures the highest possible output.
The Venkon XL is fitted as standard with the ISO Coarse filter. Optionally, you can opt for the fan coil with ePM10>50% (M5) filter. MERV 8 and 13 filters available on request.
The condensation tray continues as far as the heat exchanger connection area to collect any condensation produced by the valves.
Water and electricity connections are routed out of the unit at the same end for the simplest possible connection.
The suspension and connecting bracket for ceiling suspension also ensures an airtight connection of the Venkon XL unit to the circular duct connection unit.
Optionally available
Max. delivery height: 8 m at 4.5 l/h
Max. pump volume: 18 l/h at 0.5 m
The Venkon XL fan coil is equipped with electromechanical control. Various valve options available.
Downloads
Declarations/Certificates
TÜV Certificate ISO 9001:2008
PDF (133 kB)
ETL Authorisation to mark Venkon XL
PDF (94 kB)
Installation manuals
Venkon XL fan coils (FCU)
PDF (5.8 MB)
Cross-product information
CAD-Drawings
Venkon XL, dimensions of revision area, dimensions of suspension points
PDF (168 kB)
Venkon XL, dimensions of revision area, dimensions of suspension points
DWG (136 kB)
Technical catalogues
Venkon XL fan coils (FCU)
PDF (6 MB)