Fan Coils
Venkon
Fan coils, recirculating air. Heating, cooling and filtering for maximum comfort.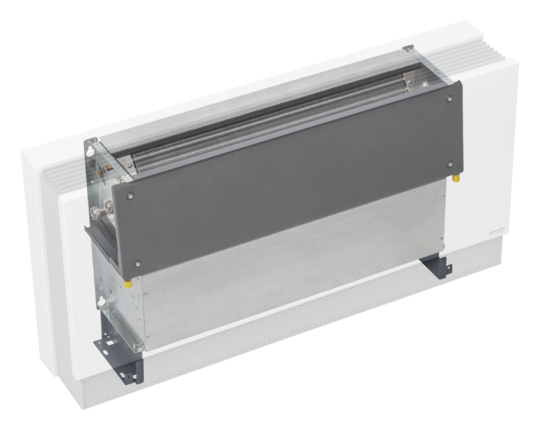 Overview
According to VDI 6022, the Venkon shines with closed-porous surfaces and best cleaning possibilities as well as excellent filter qualities (with optional ePM10 > 50 % (formerly M5) filter).
Thanks to energy-saving EC technology, the Venkon Fan Coil meets all expectations for a quiet environment. Quiet to concentrate on the essentials. Leading the market in quiet yet powerful performance at higher speeds.
Our products are suitable for use with refrigerants. Make use of the natural refrigerant CO2with low global warming potential
Plan with the Venkon and face peak loads in midsummer as well as in deepest winter calmly. The new motors with progressive power characteristics provide the decisive buffer for extreme weather conditions.
Concealed in shallow ceilings or wall-voids or exposed with space-saving aesthetically designed casings, we create your special solution.
Wired ready for connection
Easily accessible for maintenance due to removable cover
Mounting via Velcro strips for easy removal and handling on site
Super quiet at low speeds and maximum power at high speeds with ultra low energy consumption.
Simple assembly and disassembly without tools possible
In slim design
Flow-optimised blow-out behaviour due to blow-out grille
Change of the air outlet angle, also retrofittable easily
Copper-aluminium
Optimised air and water-side flow for maximum heat and cold dissipation
Can be easily and conveniently removed for maintenance/cleaning
Maintenance-friendly filter removal in any installation position
Filter washable and therefore reusable
With anti-rotation device to prevent damage to the convector when screwing in the valves
Various valve kits (optional) permanently mounted on the device and pressed off on the water side
Actuators (optional) permanently connected and wired to the valve kit
Downloads
Declarations/Certificates
TÜV Certificate ISO 9001:2008
PDF (133 kB)
ETL Authorization to mark Venkon
PDF (91 kB)
Installation manuals
Venkon fan coils (FCU)
PDF (5.3 MB)
Technical catalogues
Venkon fan coils (FCU)
PDF (9.4 MB)
Cross-product information