Overview
With the market-leading technology of our trench heating units, we are combining performance and design in a freestanding radiator.
Whether for new build or refurbishments, the interaction of quietly operating EC tangential fan and high-output copper/aluminium coil delivers an optimum indoor climate with high heat output and low sound impact.
Both the FineLine grille as well as the casing are powder-coated in a RAL colour of your choice – for a complete look.
Flat, delicate, restrained! The FineLine grille was developed specifically for our smallest recirculating air fan convectors and creates a harmonious appearance that blends perfectly with every interior architectural style.
PowerKon nano units represent an attractive eye-catching feature in front of full-height glazing. The ideal solution when an elegant statement is to be made.
The flow-optimised air guidance, with a façade-side air outlet, ensures maximum comfort in the room. With guaranteed output measured according to EN 16430.
Heat Pump Ready
This product is suitable for use with a heat pump or other low temperature system. Reduce your energy requirements, operating costs and emissions with our Heat Pump ready range of products. And make you and your customers less dependent on fossil fuels.
We have appropriate heat pump solutions for many applications, from industrial sheds, office buildings, hotels to private homes.
→ Discover more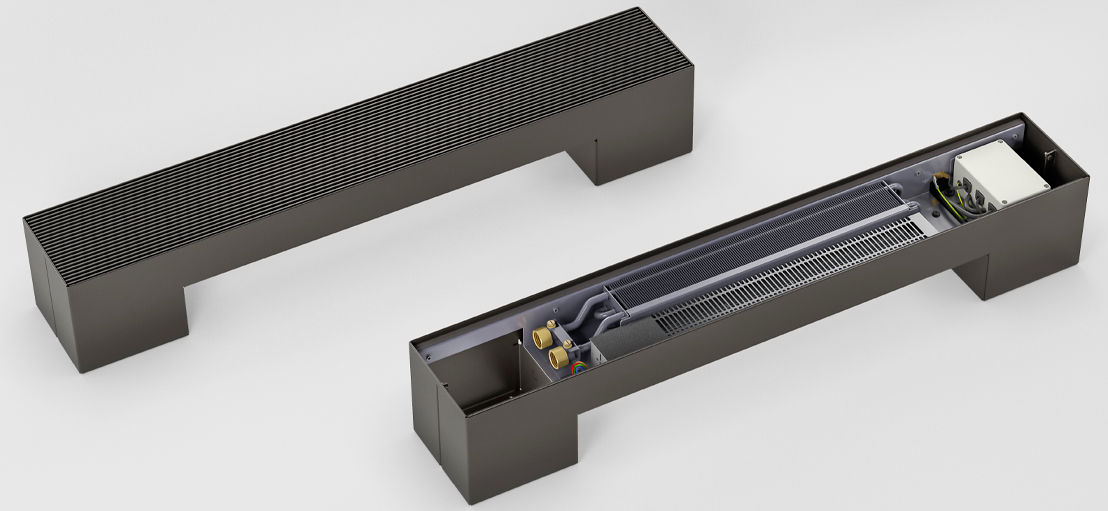 For valves and electrical connections with cover for visual protection and to protect against dirt
For precise routing of water and electrical lines
Prevents damage to the convector when installing the valves or threaded connectors
Standard DB703
Other colours on request, example shown RAL 9016 (traffic white)
Downloads
Declarations/Certificates
TÜV Certificate ISO 9001:2008
PDF (120 kB)
BIM data (Building Information Modeling)
Kampmann Group BIM data
()
Installation manuals
PowerKon nano
PDF (3.2 MB)
Cross-product information
Installation plans
PowerKon nano, electromechanical control
PDF (1.8 MB)